Winner of the Kuehne & Nagel Innovation Competition 2019
Winner of the Kuehne & Nagel Innovation Competition 2019
We are delighted to have brought home victory in the Kuehne & Nagel Innovation Competition 2019
Kuehne & Nagel called on innovative logistics and software companies from all German-speaking countries to submit their projects. The winner of this competition was invited to present the solution at the Innovation Center in Utrecht and to prove itself in a pilot project.
Project presentation of the six best
Twenty applicants took part, of which the six best were finally invited to the Innovation Competition in Bremen. The projects were presented to a jury consisting of several Kuehne & Nagel and STUTE consulting managers.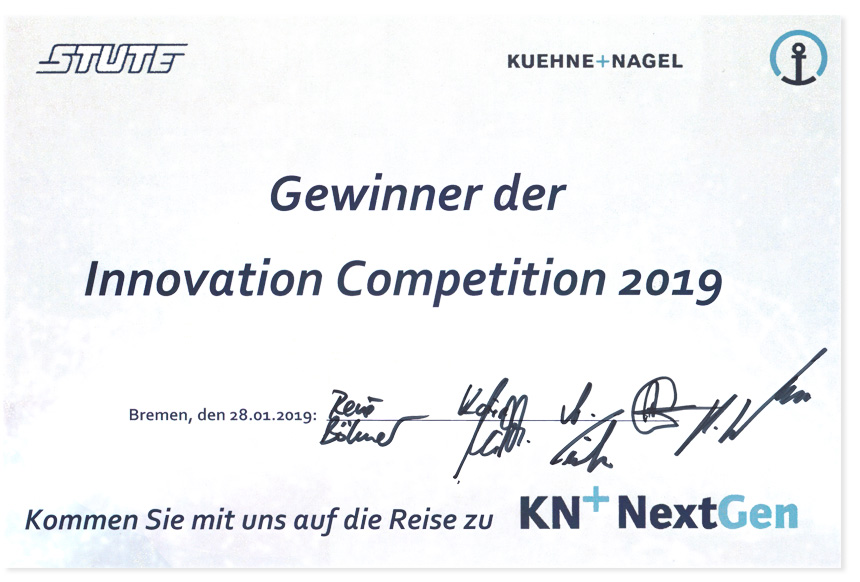 According to Sebastian Girle, Innovation Manager at Kuehne & Nagel, the process suitability of the Cargometer solution and its possibilities in Logistics 4.0 were convincing.
"Cargometer offers multiple opportunities to generate new products for the added value of our customers"

Karin Eulenbruch, Zentralleitern für Sales und Business Development, Kühne & Nagel
"We are always looking for new and innovative ideas that have a short ROI and implementation time, are scalable and solve a real problem. Cargometer scores in all of these areas and we look forward to taking the first steps of the collaboration together."

Arjan van Baarle, Head of Contract Logistics Innovation Europe, Kühne & Nagel
We are proud of this award and look forward to the cooperation!